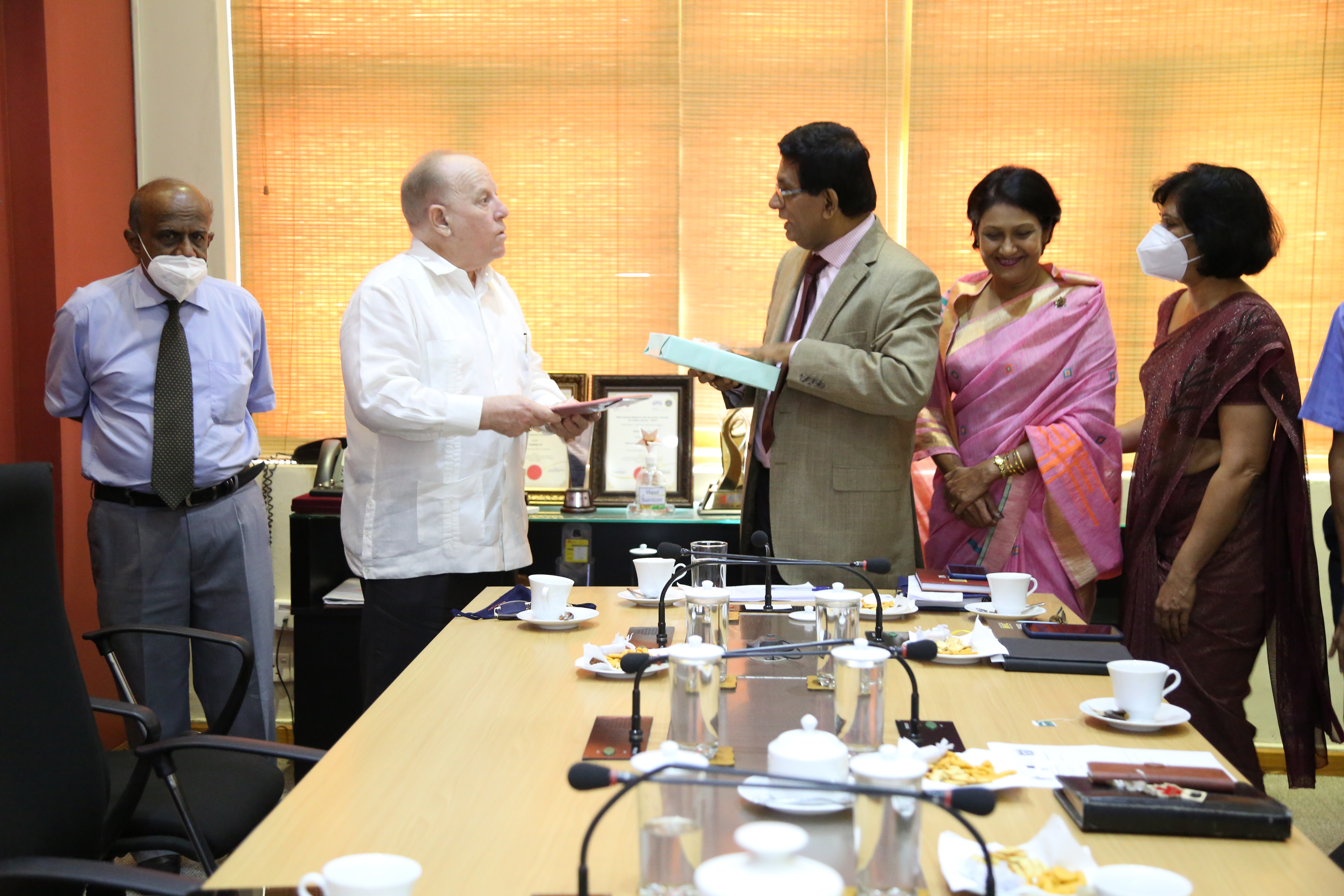 Cuba has earned international repute for its unwavering commitment to promoting global solidarity and vaccine internationalism. It has contributed to improving healthcare systems in the world and has provided COVID-19 vaccines to several developing countries when some developed countries adhered to vaccine nationalism. Thus, Cuba has emerged a paragon of medical humanitarianism in the world.
Given the global COVID-19 vaccine inequity and possible occurrence of more virulent pandemics in the future with higher fatality rates, the NSF − the premier national institution mandated to promote S&T for national development ─ embarked upon a capacity building programme aimed at manufacturing biopharmaceuticals and vaccines in Sri Lanka.
To this end, a formidable team has been assembled, comprising high-profile Sri Lankan scientists, technologists and professionals at home and abroad with a view to formulating a long-term plan to build capacity for the production of biopharmaceuticals and vaccines in Sri Lanka in collaboration with regional and international institutions including WHO.
The team comprises Prof. Malik Peiris, University of Hong Kong, Prof. Shanthi Mendis, former Senior Advisor to WHO, Geneva, Dr. Palitha Abeykoon, Special Envoy of the Secretary General of the WHO for southeast Asia, Dr. Roshan Liyanage, California, USA, Prof. Nadira Karunaweera, University of Colombo, Prof. Neelika Malavige, University of Sri Jayewardenepura, Prof. Asita de Silva, University of Kelaniya, Dr. Rajiva de Silva, MRI, and Ms Kasturi Wilsoin, CEO of Hemas Holdings PLC among others. The global digital platform constructed by the NSF enabled harnessing top-flight Sri Lankan expatriates for this purpose.
At the invitation of Prof. Ranjith Senaratne, Chairman, NSF, His Excellency Andres Marcelo Gonzales Garrido, Ambassador for Cuba, visited the NSF on the 20th April 2022 and held a discussion, focusing on capacity building for producing biologics and vaccines in Sri Lanka. Dr. Palitha Abeykoon of the WHO and Prof. Ranjith Senaratne, Chairman, Dr. Sepalika Sudasinghe, Director General, Dr. Thamara Dias, Addl. Director and senior officers of the NSF took part in the discussion.
The Cuban ambassador expressed interest to support and strengthen the NSF initiative on the production of drugs and vaccines. The NSF will submit a report to the Cuban embassy with a view to establishing collaborative research and capacity building programmes with relevant Cuban institutions. This will pave the way for developing a robust pharmaceutical and vaccine industry in Sri. Lanka, thereby contributing not only to saving but also earning foreign exchange and creating many employment opportunities in the country.