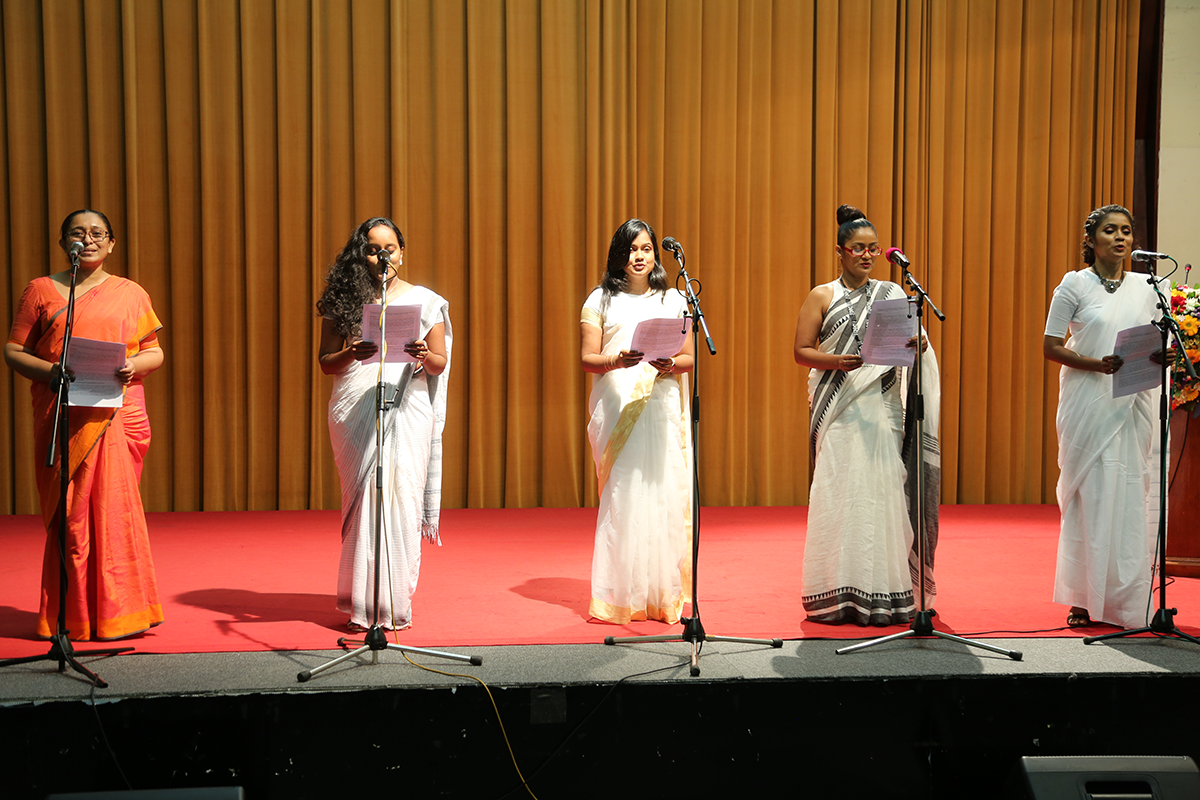 The NSF launched a new programme  on 08th March 2021 aimed at  taking science to the community, using art as a vehicle with active engagement of women. A fitting song titled "Varangaa Peramuna" (Noble Women's Front) written by Dr. Ratna Sri Wijesinghe and composed by Dr. Rohana Weerasinghe was launched  at the Ananda Samarakoon Auditorium of the SLBC to mark  the International Women's Day. Mrs. Indika Upamali, Senior Lecturer, Univ. of Visual and Performing Arts and  Dr. Harshinie Rajapakse, Senior Lecturer, Dept. of Psychiatry, Univ. of Ruhuna sang the song to the enthralment of a well-attended audience, including  participants from govt. institutions,  universities, UGC,  Sarvodaya and  Mother Sri Lanka. 


A panel discussion on the "Role and Relevance of Art and Women in Taking  Science to the Community" was held with participation of Emeritus Professor Gamini Senanayake, former Vice-Chancellor, Univ. of Ruhuna and Dr. Harshini Rajapakse, which was moderated by Senior Professor Praneeth Abeysundera, Univ. of Sri Jayawardenapura.
Senior Professor Nilanthi de Silva, Vice-Chancellor, Univ. of Kelaniya was the Chief Guest and Senior Professor Janitha Liyanage, Vice-Chancellor of Gampaha Wickramarachchi University of  Indigenous Medicine, Emeritus Professors Anoja Fernando, Thakshala Seresinghe and Ruchira Cumaranatunga of Univ. of Ruhuna, Mr. Chandrapala Liyanage, Director General of SLBC, Dr. Vinya Ariyaratne, General Secretary  of Sarvodaya and Dr. Janaki Kuruppu, Founder Chairperson  of Mother Sri Lanka were among the distinguished participants.
Emeritus Professor Ranjith Senaratne, Chairman of NSF, was the architect of this novel initiative. Dr Thamara F Dias, Additional Director and Dr Dilrukshi Ranatunga, Head of Science Popularization Division and staff of NSF were instrumental in organizing the event. Mr. Prabath Nanayakkara and Ms Rupika Gunawardena of the Vishva Parami Foundation   provided the requisite financial support for the  initial phase of this programme, which is gratefully acknowledged.