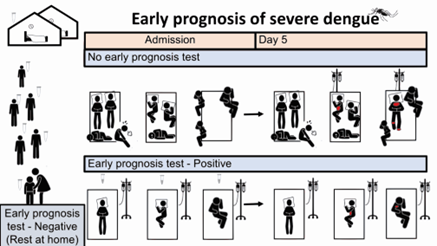 Only a small percentage of dengue infected patients develop severe symptoms. However, there is no way to predict who will develop severe symptoms among dengue patients during their admission to hospitals.
The discovered method will predict who will develop severe dengue before any severe symptoms appear so that special hospital care can be provided to such patients to reduce mortality. Due to this discovery, monitoring all dengue patients with hospital care will not be necessary. This will be a big relief to the non-severe dengue patients as well as to the hospitals.
The novel method involves detection of early markers of severe dengue, detectable in patient blood: microRNA, miR-150 and the putative target genes, enhancer of zeste homolog 2 (EZH2) and inducible Nitric Oxide Synthase (iNOS) are differentially expressed in peripheral blood cells during the early stages of dengue between the patients who developed severe dengue and those who did not. These findings may lead to development of early prognosis tests for severe dengue which may alleviate the public health burden of dengue during outbreaks.
Researchers at University of Kelaniya discovered these early markers for prognosis of development of severe Dengue. The findings from the study conducted by researchers at the Department of Chemistry, Faculty of Science, University of Kelaniya in collaboration with the North Colombo Teaching Hospital, Ragama has been published in the Journal of Biomedical Science and Biomed Research International.
Prof. Nimanthi Jayathilaka, Prof. Kapila N. Seneviratne, Ms. Harsha Hapugaswatta, Prof. Ranjan Premaratne, Ms. Ruwani Wimalasekara, Dr. Suharshi S Perera and Dr. Pubudu Amarasena collaborated in the research.
The study was supported by the National Science Foundation, Sri Lanka, UNESCO and the International Development Research Center, Ottawa, Canada under the Early Career Research Fellowship Grant awarded by the Organization for Women in Science for the Developing World (OWSD) and the University of Kelaniya.